purpose
purpose
purpose

pugging of ceramic material

(version 04S suitable also for porcelain processing)

pugging of ceramic material

and porcelain

complex processiong of ceramic materials,
mixing and pugging
pugging (kneading)
pugging (kneading)
pugging (kneading)
yes
yes
yes
mixing
mixing
mixing
no
no
yes
vacuum pug mill
vacuum pug mill
vacuum pug mill
no
yes
no
main motor
main motor
main motor
200 W, AC 230 V, 50 Hz
400 W, AC 230 V, 50 Hz
1500 W, AC 230 V, 60 Hz
noise level
noise level
noise level
70 dB
75 dB
-

product page
NRA-04/04S
...:: click for detailed technical features for all pug mills ::...
---
General information about pug mills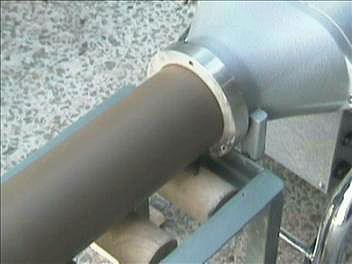 A pug mill is an important device which makes work easier and should not be missing in any established pottery workshop. The mill is designed for blending and kneading of ceramic materials in order to process clad clay or to process waste clay. It can be used for adding opening material into the material or for blending various types of ceramic clay. High-quality blending removes air spaces in the material.
A pug mill makes it easier to re-use pieces of material growing while modelling and throwing pottery which helps decrease operating cost of the workshop. However, its most important function is that you can avoid manual kneading of the material which can seriously harm your wrists. If you suffer from the carpal tunnel syndrome or ligament inflammation, a pug mill will change everything.
The Shimpo company has been producing potter's wheels since 1952, pug mills for ceramic material processing since 1978. Shimpo pug mills users compliment on their high-quality manufacturing and their extraordinary safety features. Mills are constructed in traditional high "Shimpo" quality from components for heavy load. The compact size and great extruding capacity are characteristic signs of Shimpo pug mills. They are an excellent choice for home shops, schools, professional potters and industry.
All parts of this website must not be made public prior to written authorization by the provider.