Welcome to the gallery of art potters. Here you can find the profiles of some Czech and Slovak potters and artists who work with Shimpo equipment. The gallery will gradually extend.
---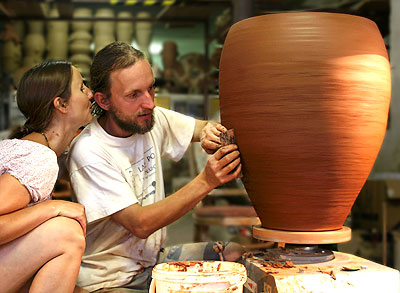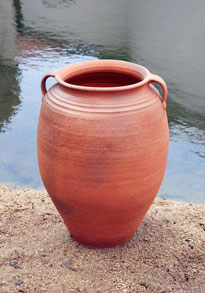 Martin Hadrava
Klikov 27, 378 05 Klikov, www.hadrava.net
He was born in 1974. After leaving high school he started his first job in the ceramic factory Dílo in Prague Malá Chuchle. Then he continued as an ordinary potter in Keram Vršovice. Later on he started up as a clay operator with the potter Ivan Terš in Byškovice. There he learned clay techniques and he worked with the potter's wheel. His decision to gain independence originated here. He founded his first own pottery workshop in the village of Důl Theodor in Kladno. Later on he closed down the workshop and left to gain other experience in Germany. There he fell in love with the working in the workshop with Kassel wood fired furnace. On his journey to experience he founded a pottery shop in south-bohemian Klikov in 2001. His pottery is burnt by fire in Kassel furnace.
He adds:
"I first came across the Shimpo pottery wheel in Germany where I, together with my colleague, listened to classical music at work. At that time Shimpo was only a dream for me. I borrowed my first Shimpo from a colleague of mine from Austria for our workshop with a Japanese potter in Klikov. About a year later I bought my own. I strongly recommend Shimpo!"
---
Petr Jurníček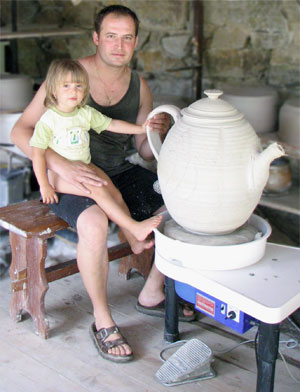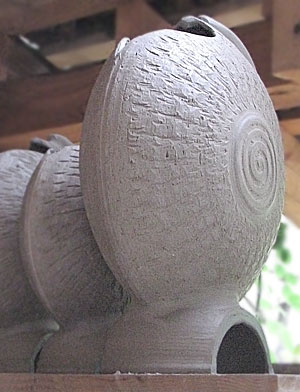 Havířská 86, 664 11 Zbýšov, www.hrncirna.cz
He was born in 1976 in Nové Město na Moravě. In 1994 he became a student of an academic sculptor Roman Wenzel. Later on, he went through five pottery shops in Brno and its surroundings. During this tour he adopted many pottery procedures and techniques. In 1999, he founded his own pottery workshop in Rosice u Brna.
Continuously he travelled throughout Hungary, the Netherlands, France and Great Britain for pottery. In 2003 he sold his pottery workshop and flew to New Zealand where he together with Stephan Robertson a Daniel Rochester took part in the preparation of six-day burning of three-cellular Anagama of the sculptor Darryl Frost. He stayed in New Zealand until the end of 2004 and he cooperated with other potters such as Steve Fullmer, Owen Barttlet and Anna Barnnet. On his journeys he visited countless number of other potters, among whose are celebrities such as Roy Mc Glassen and Barry Brick. There he acquired the grant from the government of New Zealand – so called "artist in residence" – and he worked in the family of a Malaysian painter Aliah Jan.
Po návratu do Čech pracuje v galerii Stříbrský mlýn Josefa Zahradníka v Ivančicích.
After coming back to the Czech Republic he started to work in the gallery of Josef Zahradník Stříbrský mlýn in Ivančice. At present he is building the pottery workshop-gallery-café in Zbýšov u Brna together with his wife where he also focuses on his work.
He adds:
"I came across the Shimpo potter's wheel about five years ago in Darryl Frost's atelier. He was very proud of it and he claimed it was the best wheel in the world as he really enjoyed working with it. It was not long before I worked with the strongest version in Steve Fullmer´s atelier which was called Gold Shimpo there. It was served with the lever, had a giant wheelhead and was very quite. Working with this machine was pure delight. At the beginning of 2005 I didn't have my own equipment in the Czech Republic because I had sold everything a year ago and I had at my disposal a home-made potter's wheel which had the only one good quality, it rotated. Moreover, the sitting was for perverts and it was so noisy I used to use tractor headphones. Circa after one year of this suffering I bought a pottery wheel Shimpo RK-10 through Mr. Vladimír Groh and words can't describe the following comfort and silence. I tried Shimpo RK-3E last winter at Mr. Svačina´s workshop and there was no other need than to win it in Kostelec nad Černými lesy in the Artik studio's competition of the biggest bowl. The RK-3E operation is so quite that I came to believe that it is not driven by electrical energy but by the strength of will of aliens mediating in the deep space. Meanwhile I bought quite a small pug mill for clay processing of the same brand and because I prepare most of material myself it doesn't have much time for rest. Although I burden all these machines to maximum, I have had no problems with them."
---
All parts of this website must not be made public prior to written authorization by the provider.