Potter´s wheel SHIMPO RK-55 is a novelty in the product range. It was launched in the Czech market in 2008 at Traditional pottery markets in Kostelec nad Černými lesy. The wheel is designed especially for home hobby usage and occasional hobby activities.
RK-55 wheel has stepless adjustable speed and it is the cheapest wheel with electronic speed regulation on the market which is especially suitable for beginners. The wheelhead is driven by flat belt with stretching system by means of inbuilt spring.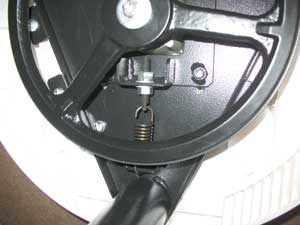 In case of need you can easily stretch
the belt, according to the instructions in the manual


RK-55 wheel is quiet when in operation and with its low weight it is also effective. Maximal capacity is about 12 kg of material. The wheel has electronic breaker. The wheelhead is made from light aluminium alloy with the diameter of 300 mm and is equipped with centring slots. As a matter of course it is possible to change the direction of rotation easily, clockwise or counter clockwise. As with the more expensive models speed is regulated with the remote foot pedal. The part of delivery is also two-piece splash pan, especially welcomed by beginners. As with the more advanced models the splash pan has quick release locks for easy cleaning. Large table providing enough space for mud pan and tools is also practical.
RK-55 wheel is constructed as a three-leg concept, unfortunately cannot be height adjustable. Despite its low weight of 23 kg it provides sufficient stability. Moreover, the low weight of the wheel enables very easy transport, e.g. in the summer to the weekend house.
---
SHIMPO RK-55 advantages:
• low weight (ca. 23 kg) – easy transport • unique system of electronic speed regulation – it does not reduce tension with bigger load and low speed • low energy consumption (100 W) • supply with common home plug (230V) • fluent, stepless speed regulation 0 - 250 rpm • overload breaker • small size • reputable Shimpo quality • low noise level (55 dB) • two-piece splash pan for easy cleaning • special quick release locks for the splash pan (no securing clips) • easily changeable direction of rotation (clockwise /counter clockwise) • easy maintenance • high turning moment with all speeds • excellent ratio: price/performance • high construction efficiency (capacity up to 12 kg) • easy stretching of the belt with inbuilt spring • reliability • wheel without seat – suitable for wheelchair users, easy manipulation • CE mark •
Detailed product picture:

* approximate capacity, dependant on many circumstances (style of rotating, shape of a product, consistency and type of material, etc.)
All parts of this website must not be made public prior to written authorization by the provider.