Potter´s wheel SHIMPO RK-3E is the most advanced model in the Shimpo family and closes the wide range of potter's wheels for various purposes. This model is designed for potters with greater demand for machine performance and for long-lasting operation in established pottery workshops and ateliers. Shimpo RK-3E with its perfect achievement and great performance has become world class standard of potter's wheels.
Vibration-free spinning, electronic speed regulation, low noise level and height adjustability of the wheel are its significant features.
With its noise level about 30 dB

30 dB

The noise level similar to quite quiet computer, you will not distrub anyone while working.

belongs Shimpo RK-3E among the quietest wheels in the world. Its extraordinary qualities are appreciated by both beginning and advanced potters and they have been reached thanks to the modern construction and technology of direct connection "Direct drive"

"Direct drive"

Motor is situated directly under the upper wheelhead and its axis is directly connected to it.

. This kind of construction does not use any kind of transmissions like belts, gear boxex, etc.
Speed is regulated by means of an electronic control device. With low speed rotation does not decrease spin power of the wheel, neither at the pressure onto the wheelhead. The control device of the wheel is equipped with an electronic breaker for accidental wheel rotating in the event of outage. Damage of the product is avoided then. It is possible to use "Free Spin" in the case of zero speed, it can be used as a decorative wheelhead while decorating pottery.
Shimpo RK-3E can be height adjustable according to individual needs of a potter to five working heights: 290, 465, 495, 525 and 555 mm. Potter´s wheel can be used as table top model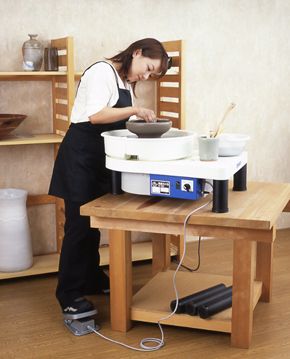 .
Practical storage in vertical position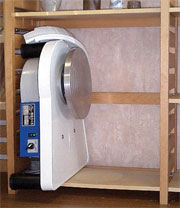 . Shimpo RK - 3E is not place demanding and can be stored vertically.
---
SHIMPO RK-3E advantages:
• robust steel construction for long-lasting durability • low weight (ca. 42,5 kg) – easy portability • unique system of electronic speed regulation – it does not reduce tension with great load and low speed • low energy consumption (400W) • supply with common home plug (230V) • fluent, stepless speed regulation 0 - 250 rpm • possible to use as a table top model • no vibration or annoying noises • large side table for tools • stable construction (3 legs – no wobbling) • overload breaker • small size • reputable "Shimpo" quality • modern design • extremely low noise level (ca. 30 dB) • two-piece splash pan for easy cleaning • special quick release locks for the splash pan (no securing clips) • easily changeable direction of rotation (clockwise /counter clockwise) • adjustable wheel height (5 variants) • brushless motor • maintenance-free thanks direct drive and brushless motor • high turning moment with each speed • excellent ratio: price/performance • high construction efficiency (power match to ca. 750W common motors) • constructed for high load • reliability • wheel without seat – suitable for wheelchair users, easy operation • CE mark •
Detailed product picture:

* approximate capacity, dependant on many circumstances (style of rotating, shape of a product, consistency and type of material, etc.)
All parts of this website must not be made public prior to written authorization by the provider.